The following article is from the National Right to Work Legal Defense Foundation's bi-monthly Foundation Action Newsletter, July/August 2019 edition. To view other editions or to sign up for a free subscription, click here.
Union bosses bullied and illegally threatened to discipline employee who defied strike demands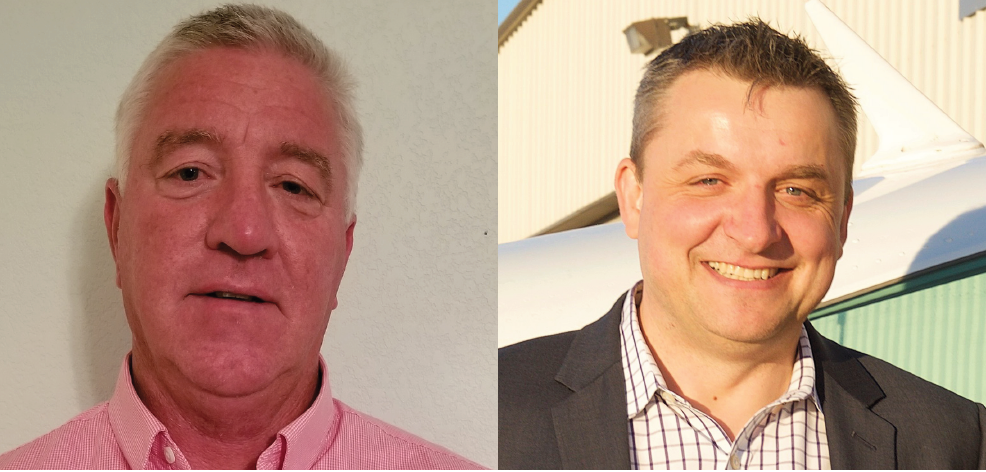 United Airlines fleet service employee Arthur Baisley (left) and JetBlue pilot Christian Popp (right) are challenging union boss "opt-out" rules that make nonmembers pay for union political spending without their consent.
AUSTIN, TX – United Airlines fleet service employee Arthur Baisley and JetBlue Airlines pilot Christian Popp have filed federal lawsuits against the International Association of Machinists (IAM) and Air Line Pilots Association (ALPA) unions, respectively, challenging union officials' "opt-out" requirements designed to make non-members pay for union political activities without their consent.
Austin, TX-based Baisley and Fort Lauderdale, FL-based Popp filed their lawsuits with free legal aid from the National Right to Work Foundation. Their Foundation staff attorneys argue that the "opt-out" schemes perpetrated by IAM and ALPA bosses violate workers' rights under the Railway Labor Act (RLA) and the First Amendment under the standard laid out in the landmark 2018 Supreme Court decision Janus v. AFSCME.
"No employee or private citizen should be trapped in a deliberately-complex system that funnels their money into political speech of which they disapprove. Unfortunately, that is exactly what IAM and ALPA union officials are doing to non-member workers across America," commented National Right to Work Foundation Vice President and Legal Director Ray LaJeunesse.
Union Bosses Trap Workers in Complicated and Unconstitutional Scheme
The lawsuits contend that under Janus and the 2012 Knox v. SEIU Supreme Court case – both of which were argued and won by Foundation staff attorneys – no union dues or fees can be charged for union political activities without a worker's affirmative consent.
Popp and Baisley, despite working in the Right to Work states of Florida and Texas, must still pay fees to their respective unions as the RLA preempts state law and permits forced dues. But, even in the absence of Right to Work protections, established Supreme Court precedent forbids unions from putting those compulsory fees towards ideological activities like lobbying or politics.
Suit: Under Janus and RLA, Workers Must Opt-In to Political Spending
According to the lawsuits, the processes that IAM and ALPA union bosses require independent-minded workers to go through simply to exercise their constitutional right not to fund "nonchargable" activities are convoluted and typically involve having to "decipher" the opt-out requirements of the union.
Even worse, after Baisley submitted a letter to IAM agents in November 2018 objecting to funding all union political activities, the union officials only accepted his objection for 2019, and told Baisley he would be required to renew his objection to full dues and fees the next year or else be charged for full union dues.
The two complaints challenge these union boss-created policies on the grounds that they "require employees to opt-out of paying union fees that they have no legal obligation to pay" and thus violate workers' First Amendment rights.
The complaints also allege that the "opt-out" requirements violate the RLA, which governs labor in the air and rail industries and "protects the right of employees to 'join, organize, or assist in organizing' a union of their choice as well as the right to refrain from any of those activities."
Both suits are class-action, and seek court orders requiring union officials to ask for affirmative employee consent for any dues charged for political or ideological purposes in the future.
"These lawsuits show that although Janus' most direct impact was to secure the First Amendment rights of public employees not to be required to fund Big Labor, the implications don't stop there," observed LaJeunesse. "Because the Janus decision made clear workers must opt-in to all political and ideological activity, Foundation staff attorneys are able to cite it in defense of airline workers covered by the Railway Labor Act."